Limoncello is home to Greenville's Italian side. Our chefs delight your taste buds with dishes ranging from straight-from-the-boot traditional to others imbued with local flare. And, no matter what, it's all delicioso! So whether you're after saucy meatballs, a romantic date night, house made Limoncello, seafood accompanied by lush Tuscan wine or the perfect pasta, you won't want to miss a single bite. We also offer unique, one-of-kind pizzas like the Perfect Pear and Saltimbocca. So be sure to join us if you've got Italian on your mind.
Vow to spice up your lunch routine! Limoncello is offering a you-pick-two special for just $20.23. This deal is happening Monday-Thursday from 11 a.m. – 3 p.m.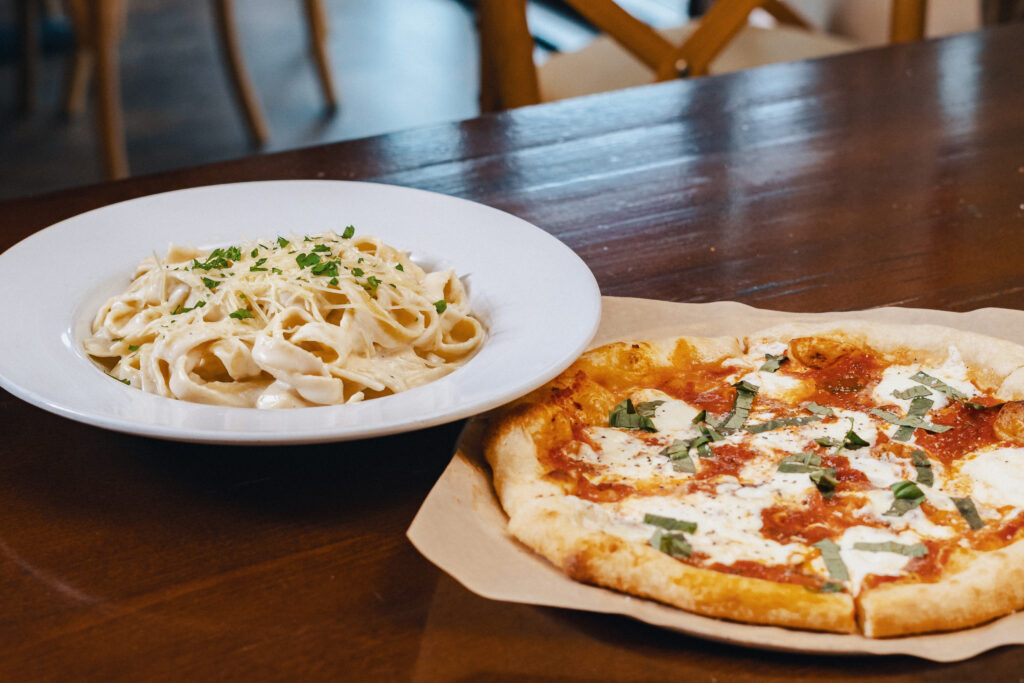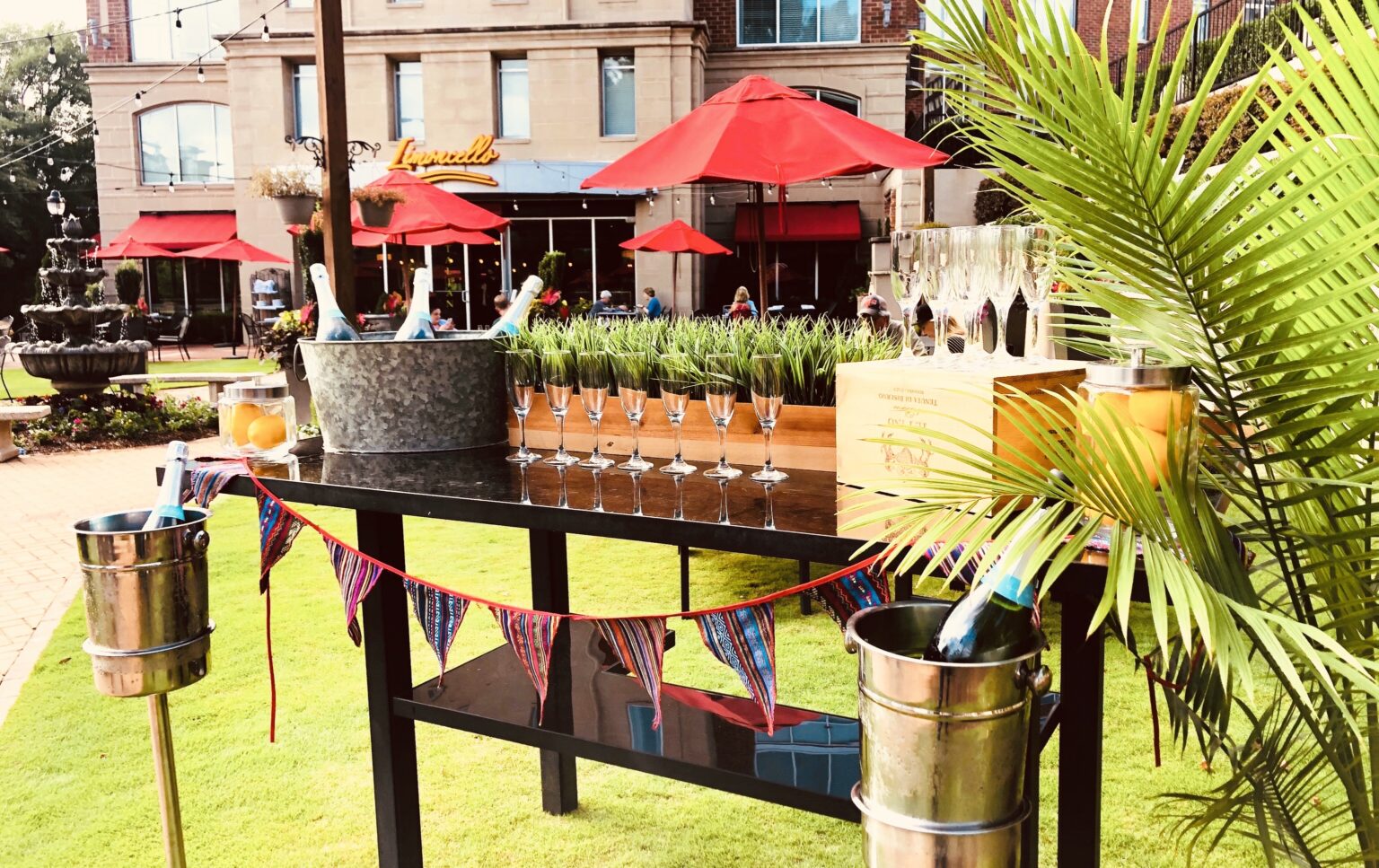 Saluti to you! Stop by on any tuesday to enjoy prosecco at the Piazza. Grab your pup and/or friend to enjoy the beautiful weather of the south in our courtyard where we treat you and your guest to the finer things.
To go along with prosecco, we also offer a fabulous brunch on saturday's between 11AM – 3PM, where we offer an array of italian favorites.  Such as an italian twist on the breakfast sandwich to strawberry mascarpone italian toast, we make sure you don't go home without the taste of Italy.
Greenville Triumph Soccer Club and Larkin's Restaurants announced that Limoncello Italian Kitchen will serve as "The official pasta of the Greenville Triumph" for the 2022 season and beyond. 
"Larkin's restaurants are known for having the best detail and devotion to guests," said Triumph CRO Chris Baretta. "We're excited to have Limoncello fueling our athletes and coaches with what we feel is the best pasta in Greenville, and we can't wait to collaborate on a number of community-based initiatives in the Upstate that will be announced in the near future."
I had the pleasure of dining at Limoncello prior to an event at the Peace Center which is surprising a close walk. We had reservations and were promptly seated. The... read more dining area up front was pretty full but our area in the back was bright and not crowded. We enjoyed our server who was really friendly and helpful with what as popular on the menu. What impressed me the most however was how often the manager stopped by to ask us how are meal was going. He joked with us a few times and just made the entire meal feel like you knew they cared about the experience of their diners. We got the lunch special, a kids meal, and one of the weekend brunch options. The kids Mac and cheese was enormous and very good! It was more like a fettuccine Alfredo but with extra cheese baked on top. The lunch special included Caesar salad, a meatball, garlic knots, fettuccine Alfredo, and sauce to dip your garlic knots in. I thought it was a perfect amount of food although I would have liked a bit more Alfredo sauce so I used the extra they gave for dipping. I highly recommend their drink specials. They were very light and refreshing for a spring or summer day. The last meal was their French toast on the special brunch menu. It was very decadent and rich. We really enjoyed the flavors. It was definitely a more dessert type of dish. Overall I'm looking forward to returning for their expressive dinner menu.

Amanda Swenson


April 28, 2022

So so good better than I expected!! Got a great size meal for a great price and it was very well made. The atmosphere was amazing as well, they had... read more an indoor option as well as an outdoor option with a nice ambience. Lastly, our server Torey was very helpful and kind as well! Definitely recommend.

Abby Weaver


August 28, 2022

Was treated to an exquisite meal at Limoncello. Shared a flight of flavored limoncello samples and was delighted by how tasty the drinks are. Our waiter, Chris was fast and... read more friendly. He did a great job checking on us and being informative. Our time at the restaurant was very pleasant. It's a high class establishment with outdoor seating.

Max Well


March 28, 2022

Wow, what a treat that was. Debbie and I have passed this place many times and finally we stopped in. Spectacular food, drinks and the service outstanding. Bobbi treated... read more us like family 😎. Highly recommend. Check out the photos. This drink sampler was incredible. 3 Thumbs 👍👍👍 up and 5 Stars ⭐️⭐️⭐️⭐️⭐️ from us.

Colin Slaven


August 28, 2022

Exceed expectations. In the category of a premium Italian restaurant but also still serves authentic, realistic portioned, and tasty food. This place is defiantly not just for show. I'd eat... read more here regularly if the prices were just a little bit lower. They have weekly deals that I'll try to take advantage of next time.

Trent Dingman


June 28, 2022

My first visit here was for my best friend's baby shower and I will definitely return. The food was delicious and servings were huge. The atmosphere was comfortable and the... read more service was impeccable. I enjoyed indoor seating this time but will definitely be back to enjoy the outdoor space.

Holly Vogler


June 28, 2022

Came here for a nice dinner downtown and caught the restaurant week special. Three courses for $35. Caesar salad, chicken parm and gelato. A carafe of house red wine for... read more $15. The garlic knots were a must! This will be my go to Italian spot downtown from this point on. Our server was pleasant and did a great job.

Logan Gable


August 28, 2022

One of the nicest outdoor seats in the city. Great ambiance, great decor, and really good food. True to it's name, they also serve authentic italian limoncello- a... read more popular light drink from southern Italy. They offer a well priced lunch menu and have everything from comfort foods to a wine tasting room. Parking: Limited parking right next to the restaurant as it is in the middle of the city. It's best to use a parking lot or a garage, and thankfully there are many close by

e castle


October 28, 2022